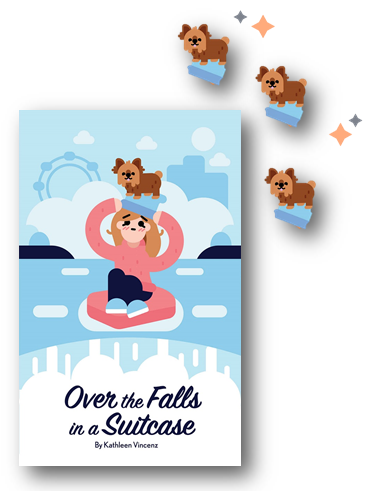 What happens when three sisters, a dog, a hat, and a pink suitcase collide in Niagara Falls? Find out in Over the Falls in a Suitcase.
————–
When Lindsey and her sisters visit Niagara Falls with their mom for a girl's weekend, they expect fun, site seeing, and sisterly love. After all, it is the last weekend before their mother undergoes cancer treatment and Lindsey and her sisters are sent away to live with an aunt. Which one? They have to choose! Choose? Lindsey can't even decide on a color of eye shadow.
Instead of a fun girl's weekend, Lindsey's indecision and her sisters' constant bickering lead them into mishaps, including hidden dogs, stolen hats, and cute boys. Finally, Lindsey learns to take charge and keep her family together.
Reviews
Sweet story with lovable characters!
Fun to read and engaging!
PURCHASE